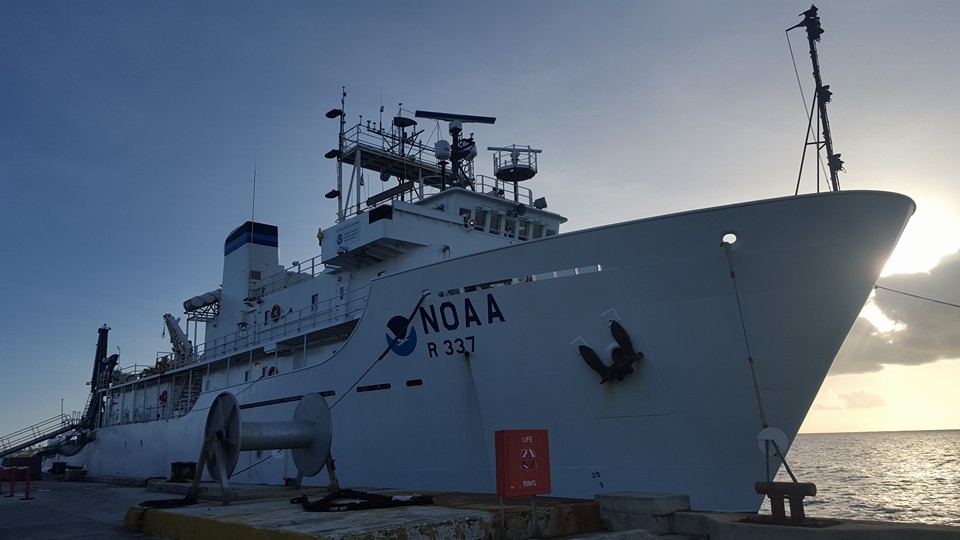 In March 2016, I departed for the Marshall Islands with the Okeanos Explorer in Training Program. After about 38 hours of traveling along with an extended pitstop in Hawaii (I couldn't miss celebrating St. Patrick's Day!) I arrived in Kwajalein to meet the R/V Okeanos Explorer. Serving as a mapping watch stander. Our expedition began in Kwajalein, Marshall Islands, and ended in Guam, Northern Mariana Islands. Our mission was to explore and map the deep-water regions surrounding Wake Island in the Pacific Remote Islands Marine National Monument.
NOAA partners with the University of Corporation for Atmospheric Research (UCAR) to coordinate research and collaboration activities of the OER's Okeanos Explorer expeditions to bring aboard Mapping Interns to apprentice in a variety of capacities, serving as part of the science teams, and living and working on board a NOAA research ship.
During my time aboard the ship, I chose to do a few final projects. One was to create an education outreach infographic on 'Exploration 101'. The other was to create a poster
using the multi beam surfaces we collected around the Wake Island Unit in the PRIMNM along with a statistical recap of this segment. I also created a Fledermaus fly by video of a cluster of seamounts we mapped. I even was given the opportunity to create some designs for potential Okeanos Explorer shirts.